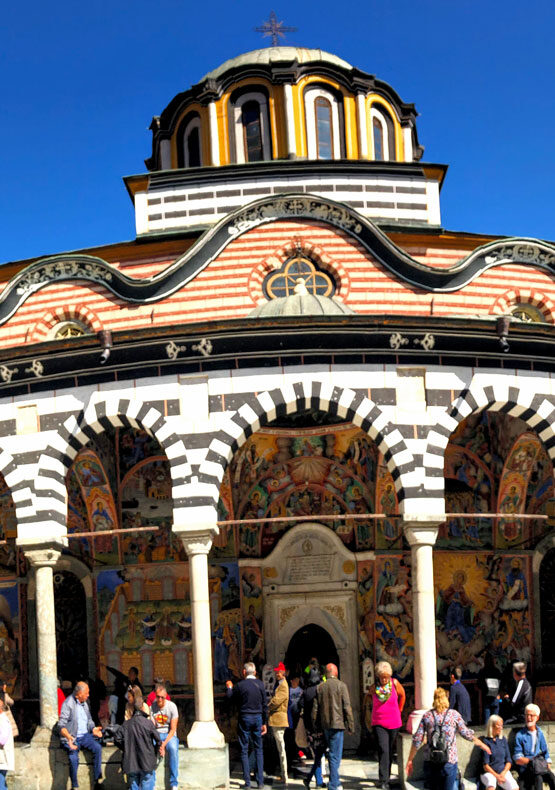 Bulgaria lies in Southeast Europe, occupying the heart of the Balkan Peninsula. It is known for its natural beauty, rich history, and unique local traditions and culture. Established in 681, it is the oldest country in Europe.
The major cities in Bulgaria reflect regional differences in geography and lifestyle. Sofia, the capital city, is the political and economic heart of the country. Plovdiv, one of the oldest cities in Europe, was the 2019 European Capital of Culture. Varna and Burgas, on the Black Sea coast, are commercial seaports and gateways to summer beach resorts.
Mountains constitute a significant part of Bulgaria and are dominant in the southwest and central parts of the country. Bulgaria's two highest peaks are Mount Musala (2925 m; the highest in the Balkans) and Mount Vihren (2914 m). A network of over 200 mountain hostels support a strong culture of outdoors recreation and provide lodging and food for hikers year round.
The fertile valleys make Bulgaria an agricultural powerhouse. The Rose Valley is a major producer of fragrant natural rose oil.
Winter snows beckon tourists to Bulgarian slopes for skiing appropriate for all levels of ability. Bansko, the largest winter resort, is a stop on the World Cup ski racing circuit.
Unique Bulgarian holidays, traditions and delicious cuisine promise to turn any visit into a rich cultural experience.
Worker Bee Tours in Bulgaria
Like many post-communist countries, Bulgaria suffers from economic malaise and crumbling infrastructure brought on by decades of neglect. EU membership has brought investment and repairs, but there is still a long way to go for Bulgaria to achieve its full potential.
Worker Bee Tours is engaged with local non-profit organizations to provide volunteerism opportunities for our customers. We support community service projects, children's summer camps, and outdoors maintenance and repair efforts to help Bulgarians make their country a better place to live. We have service opportunities available year round for individuals, families, and groups.
Read More