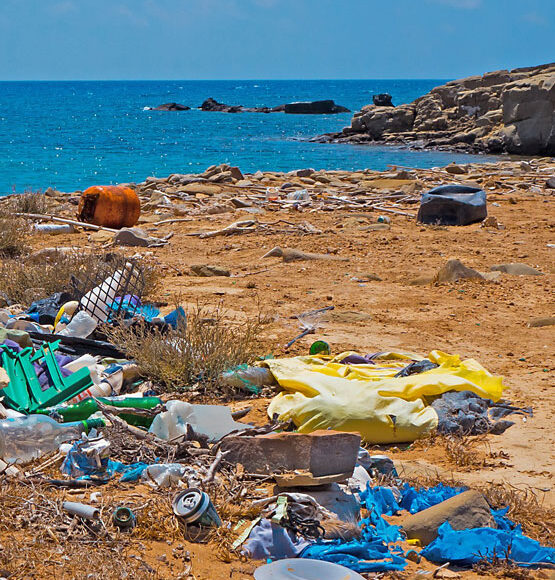 The International Coastal Cleanup is a worldwide event held each year to collect trash and waste that accumulates around beaches, coastlines, and other bodies of water. Come help us keep the earth clean for future generations!
Ocean Conservancy and International Coastal Cleanup are registered trademarks of Ocean Conservancy.
What is the International Coastal Cleanup?
The International Coastal Cleanup is the world's largest volunteer effort to secure ocean health for future generations. Each year, on the fourth Saturday in September, people gather on beaches, coasts, rivers, waterways and underwater dive sites to remove trash and record information on the debris collected.
Who started the International Coastal Cleanup?
In 1986, two inspired women called Linda and Kathy reached out to the Texas General Land Office, local businesses and other dedicated ocean-lovers, and planned what would become Ocean Conservancy's first Cleanup. They asked volunteers to go beyond picking up trash and record each item collected on a standardized data card in order to identify ways to eliminate ocean trash in the future.

Since then, the International Coastal Cleanup has grown into a worldwide movement in support of trash free seas. Volunteers from states and territories throughout the United States and more than 100 countries around the world come together each year and participate in a Cleanup event near them.
Worker Bee Tours participates in the International Coastal Cleanup by organizing local efforts to pick up trash and record our results for use in waste analysis and materials planning. Here's what you can expect on this tour:
TRASH COLLECTION Worker Bee Tours volunteer teams will work in small groups to collect trash into bags and stack them for collection. This event coincides with a worldwide effort to do the same.
MAKING NEW FRIENDS Meet interesting people and make new friends as you work shoulder to shoulder with other local and international volunteers.
EXPLORE GREECE Northern Greece is rich in natural, cultural and historical sights. Join us as we use our down time for sightseeing and exploring wonderful places.
TRAVEL WITH US An optional trip extension will tour historical and cultural sites around the region, with an emphasis on showing you the best that Greece has to offer.
FOR MORE INFORMATION contact us.
Itinerary
Day 1 – Arrive in Greece
Our rallying point for this tour is Thessaloniki Airport "Makedonia," the air travel hub of northern Greece. It is served by regular flights from most European cities. From there we travel by bus to Kavala for check in to our accommodations and free time before enjoying a welcome dinner and meet-and-greet social.
Day 2 – Explore Kavala
Breakfast at the hotel. In the morning we will have a guided tour of the Old Town (Palia Poli), including a visit to the Castle of Kavala. Explore the 15th century ruins, walk the walls, and climb the tower for expansive views of the city and its surroundings. Lunch in town. Afternoon visit to the Archaeological site of Ancient Philippi, including the Agora, the Octagon Church, the Ancient Theatre and the "Prison." A brief stop at the Lydia Baptism location before returning to Kavala. Dinner at a local Greek taverna.
Day 3 – Cleanup Day!
Breakfast at the hotel, followed by cleanup orientation and transportation to the cleanup site(s). Be sure to wear your official cleanup crew t-shirt! Participants will work together in small groups collecting and bagging trash and other waste until late afternoon. A picnic lunch will be served on site. Return to the hotel for freshening up and dinner.
Day 4 – Goodbyes and Return Home
Breakfast at the hotel, followed by goodbyes and departure. Optional tours and free time in Thessaloniki for people with late departures home.
Image Gallery
Video
Important Information
Price Includes
Round trip airport or train station transfers.
4 nights accommodation in aparthotel in London.
Breakfast daily.
Day touring as per the itinerary.
Price Excludes
Round trip airport or train station transfers.
4 nights accommodation in aparthotel in London.
Breakfast daily.
Day touring as per the itinerary.
Terms & Conditions
Prices are "from", per person, based on 2 adults and 2 children (under the age of 12) sharing, and include all taxes. Subject to availability. 4 nights' accommodation in an aparthotel in London. Breakfast daily. Day touring as per the itinerary.