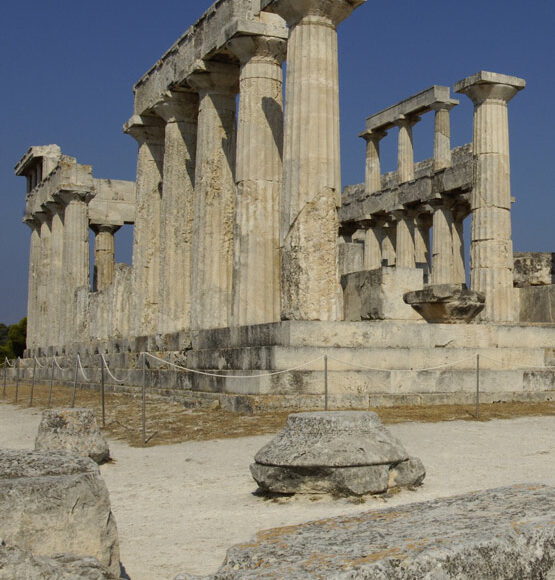 Join us for three fabulous days on this Aegina Adventure, a special itinerary created for friends to enjoy together. Come with us and explore this special island home of an ancient civilization that once ruled the Aegean Sea. Only 20 miles from Athens, this island is close enough to be seen from Athens, but still manages to preserve a lifestyle worlds away.
Together we will explore sights spanning 3000 years of history, including the spectacular ancient Temple of Aphaia, medieval chapels at Paleochora, the 19th century Orphanage of Kapodistrias, and the modern Monastery of Agios Nectarios. Along the way we will also discover the secrets of Aegean sponges and pistachio nuts, two products for which the island is famous.
Itinerary
This three day tour fits well as an add-on to one of our longer Greek tours.
Day 1 – Ferry to Aegina and walking tour of Aegina town.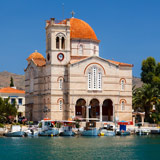 Morning transfer to the ferry for a short one hour ride from Piraeus to Aegina Island. Arrival and check in at the hotel. Lunch nearby. Afternoon walking tour of Aegina Town, including visits to the Temple of Apollo and Markelos Tower. Optional stops at the fish market and Archaeological Museum. Free time and group dinner in Aegina Town.
Day 2 – Aegina through the centuries.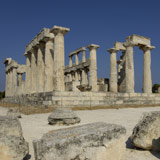 Breakfast at the hotel. Coach tour stopping at the medieval capital ghost town at Paleochora, the Monastery of Agios Nektarios, the majestic Temple of Aphaia. Group lunch. Brief stop at the Agios Minas Monastery. Afternoon continue to the Temple of Ellanion Zeus and return for free time to relax at the hotel. Dinner near the hotel.
Day 3 – Discover the beauty and industry of Aegina.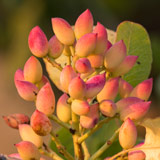 Breakfast at the hotel. Morning free time for lounging at the pool or visiting the beach. Transportation available to Aegina town. Lunch on your own. Afternoon excursion to explore pistachio production on the island, followed by a visit to the picturesque fishing village of Perdika for fantastic sunset views and a special farewell dinner to conclude our Aegina Adventure.
Day 4 – Departure.
Breakfast at the hotel. Transfer to ferry for return to Athens and transportation to the airport for departures home.
Aegina Adventure Image Gallery
Video
Important Information about the Aegina Adventure
Price Includes:
Tour transfers and transportation.
3 nights accommodation in a 4 or 5 star hotel.
Meals as specified in the itinerary. (3 breakfasts, 2 lunches and 3 dinners included.)
Day touring as per the itinerary.
Professional tour guides.
Destination travel tips.
Entry fees and gratuities.
Price Excludes:
International travel.
One lunch on your own.
Extra hotel nights and meals beyond the itinerary.
Trip cancellation insurance.
International Health Insurance.
Terms & Conditions:
Prices are per person, based on double occupancy. Single rooms are available for an additional charge.